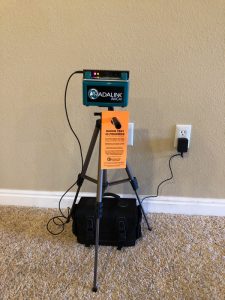 Radon gas is an invisible, odorless gas that is produced by the normal breakdown of uranium in the soil. You can't see radon, smell it or taste it but it may be a problem in your home or business. Although some regions of the U.S.have higher levels of radon, elevated levels have been found in homes in all 50 states, and around the world.
Radon testing is the only way to know if you and your home or business is at risk from radon. EPA and the Surgeon General recommend testing all homes and business for radon.
In Colorado half of all homes tested are above the acceptable level of 4.0 pCi/L. 95% of the counties in Colorado have radon levels above the EPA's guideline
Reducing radon is recommended when an unacceptable level of radon (> 4.0 pCi/L) is discovered in a home or business. A specialist in radon mitigation is recommended to reduce the amount of radon in the air as much as is possible.
Radon Testing Services:
Radon Testing for Homes and Businesses

EPA Certified

Recommend Plan of Action for your Property